CREATIVE DIRECTOR
bigtwin
CONTENT DIRECTOR
Philip Hansen Bailey
Special thanks for finding the car keys and the zip disks
ART DIRECTION
Cybernaut
LINKS, REFERENCING, and CORRESPONDENCE
Charles R. Lilly
PHOTO CREDITS
-Faustin Bray and Sound Photosynthesis
-Philip Hansen Bailey
-Lilly family photo archives
bigtwin
Vincent
SPECIAL THANKS TO
-Kutira Decosterd
-Michael Bailey and Club Lanai for
the dolphin watching boat trip.
-UpCountry Cafe for feeding us.
-Joi Ito, Kaoru Hayashi, Sakurako Yagi,
for planetary connections.
-Cyrus Shaoul for our web-counter, and various key tech help
-Femi from MacMall, the FedEx Lady,
and the ECCO agents who delivered our intelligence.
-Barbara Clarke-Lilly
-And All the Dolphins and Whales of the world.

-With support from:

FINAL SAY
John C. Lilly
WEBPAGE STAFF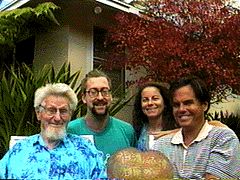 August 1996
1st update January 1997
2nd update September 1997
3rd update March 1998
4th update January 1999
5th update February 2001
6th update January 2003
7th update July 2007